I joined the staff as lead pastor at First Baptist in March 2017 after nine years of ministry in Racine, Wisconsin as an associate pastor.  I grew up as the child of missionaries in South America, where I got to live among and learn from the beautiful people of Bolivia and Chile.  After high school I attended Baptist Bible College of PA (now Clarks Summit University) and graduated at long last in 1998 with a Pastoral Ministries degree.  After completing a two-year short term missionary assignment in Chile, I returned to Baptist Bible Seminary for my Master of Divinity, which God graciously enabled me to complete in 2007.  From there it was off to Rochester, New York for a year-long internship at North Baptist Church (now Northridge Church) before jumping into full-time vocational ministry at Fellowship Baptist Church in Racine in the fall of 2007.
Responsibilities
As lead pastor at First Baptist, I have the privilege and responsibility of preaching and teaching God's word and providing leadership and oversight to our overall ministry at the church and our Christian school (Horseheads Christian School).
Family
I met my wife Jill as a first-year seminary student and quickly fell head over heels for her.  Within a couple of years we were married and beginning the adventure of starting a family together.  My first son (Josiah) was born while I was a student at Baptist Bible Seminary, while my last three sons (Gabriel, Zackariah, and Noah) were born while I served in Racine, Wisconsin.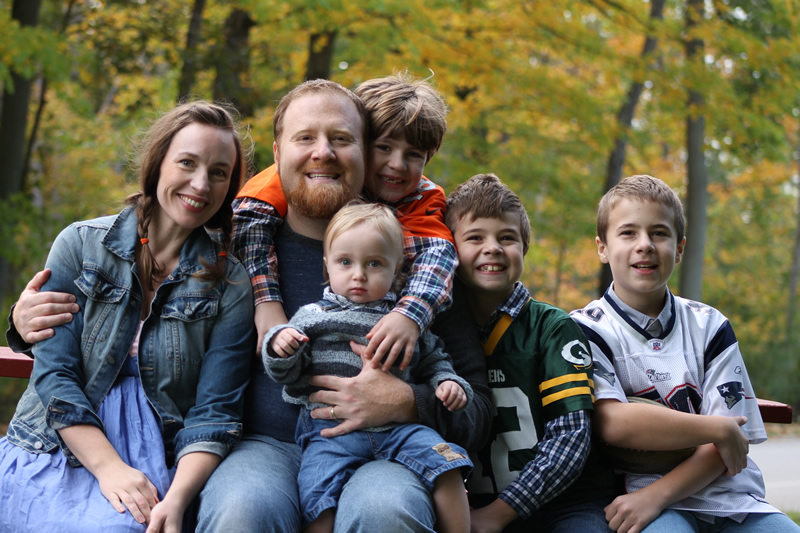 Q&A:
Where were you born? 
I'm one of those immigrants you need to worry about.  I was born in Moncton, New Brunswick, Canada, where my dad was serving as an associate pastor of a local Baptist church.
What was your first job?
I worked at Irving gas station as a cashier and all-around unskilled beast of burden.
What is your favorite movie? 
This changes almost every year, but it's a toss-up between The Dark Knight and The Lord of the Rings:  the Fellowship of the Ring.
What's one thing you love about Horseheads?
The fall foliage blew me away the first time I saw it.  Just jaw-droppingly beautiful.
What is your favorite food?
Pizza (the saucier, the better…)
What are you a fan of?
J.R.R. Tolkien mythology, the challenging and thought-provoking writings of John Eldredge, (most) Facebook memes, Phineas and Ferb re-runs, Pudgies Pizza, the comedic stylings of Michael Scott, and bacon.
What is a favorite passage of Scripture?
"Be steadfast, immovable, always abounding in the work of the Lord, for you know that in the Lord your labor is NOT in vain."  1 Corinthians 15:58
Favorite Bible Teacher?
-To listen to:  Judah Smith
-To read:  N.T. Wright
-To talk to:  Ted Boykin
Most mysterious thing about God?
That's easy – why is he SO relentlessly committed to having me grow up?  Doesn't he EVER take a vacation from that?
Favorite must read books?
-Non-fiction:  Surprised by Hope (N.T. Wright), Beautiful Outlaw (John Eldredge), The Jesus I Never Knew (Philip Yancey), The Return of the Prodigal Son (Henri Nouwen), The Pentateuch as Narrative (John Sailhamer), The Book of Manly Men (Stephen Mansfield), On Writing (Stephen King), Outliers (Malcolm Gladwell), Walking the Bible (Bruce Feiler), Linchpin (Seth Godin), Daring Greatly (Brene Brown)
-Fiction:  The Book of Joby (Mark Ferrari), This Present Darkness (Frank Peretti), the Chronicles of Narnia (C.S. Lewis), the Lord of the Rings (J.R.R. Tolkien), Christ the Lord: Out of Egypt (Anne Rice)
Favorite place to go on vacation?
Tampa, Florida